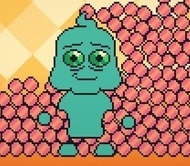 This challenge is made in retro style and will appeal to all fans! Here, players will get a cute character that looks like an alien. Each time you will see a new unique hero with different features.
The main task is to take care of him, so devote all your free time to him! But before that, he will tell you his story, from which pity will appear for him. He is really unhappy and will beg you not to leave or he will die.
What decision will you make? Remember that this act will be on your conscience! The creature will throw the ball or ask to fight with swords!