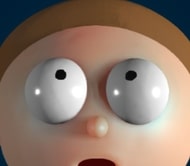 Have you ever found an application that can be called as weird as possible? Then Elastic Man 2 will definitely surprise you. An elastic face that takes on any shape and reacts to your every touch.
You can not only stretch it, but also bend it, control it. You can make it sad or funny. You can also use a variety of funny chips. You will have to become a real puppeteer in order to make fun of the forms that this face can take.
How deep and wide your fantasy is, only time will tell. A few incredible attempts to make a funny joke, and you will definitely be sucked in by this anti-stress.