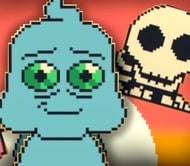 New pet adventures?
The latest development of a psychological nature for those who like to test their nervous system. Here you will see how your worldview can change under the influence of an emotional little character named BitBuddy. He will demand attention from you, a lot of attention.
He is like a small child, he wants to play and wants to be taken care of. He will invite you to plunge into the atmosphere of a dialogue in which he will tell you about his pains and sufferings. He certainly knows that his end is near, and he wants his desires to be shared with him.
A few attempts to cheer you up and you will have a suspicious feeling. What is it? Responsibility or sympathy? Excitement or a desire to help a little helpless lump who is ready to share with you all the most valuable that he has? Fancy catching the ball with the cursor is serene fun. But how important is she to this dude.
Several levels of combat with the enemy will also amuse the little rascal. Take courage and open up to this creature. It can be hungry and ask to eat. Feed him. Watermelons and pears will definitely please the baby. Small life simulator on your screen.
Captivating simulation story
The game is designed in such a way that you are free to do whatever you want. Just end the process. Don't close the window that this BitBuddy lives in. Otherwise, he will die. He mentions it at every opportunity. He wants to get attached to you as much as possible and like you, so he will tell you what he feels and what he is going through. A few flashbacks will prove quite helpful to keep the main line of tension going.
Use intuitively various prompts that will be voiced by your new friend. Amuse him. A gloomy view is very hard to miss, so don't deny him the little pleasure he can offer you. A few moments – and you will find yourself on a boat with your new friend. He will think and share his thoughts about life right against the background of the sunset.
Nothing can interfere with this peace, except for the EXIT button. Do not click on the cross, so as not to kill this baby. Everything that it can offer you is already on your screen. He will still retain a few memories of what you did to him. And be sure to share with you. Dress him up with the help of codes and arrange a real holiday for this lump.