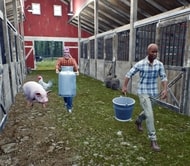 Slow down and enjoy the farmer's life from ruins to prosperity! You're starting with an abandoned carcass of what has been the granddad's honor once. No doubt you have the resources and powers to transform this place into a pearl of the forest.
Animate it with animals, crops, and friends! It's possible to invite three people to your map and give them work to do, or just let them pass the perfect time. Nothing can stop you from succeeding, except for the lack of gold and abundance of predators.
If you're really stuck, the right Ranch Simulator can save you. This means endless wallet and ammo, the classic helpers in the genre. And for more amusement, top modifications disable gravity and increase the speed of your protagonist.