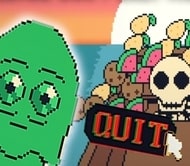 Simulation turmoil
This application has burst into the world with great speed. It has conquered life simulator lovers. A small but very cute ball of happiness appears on your screens, which, as a result, becomes your best friend.
Only the only rule of this game is that it cannot be finished without the death of the main character. As soon as you close the tab or complete the process, the bones of your beloved friend will be waiting for you.
The beloved simulator has become a symbol of influence on the human psyche, thanks to which the character makes you feel panic, fear for life, responsibility, and unexplained love.
You should make several attempts to make your character a little happier. He will offer you several types of fun: first you will catch the balls that your friend will throw to you. Then you will find yourself on a real battlefield.
BitBuddy is ready for all sorts of battles and you will see one of them right on your screen. You will need to get a battle pass. These competitions will become a kind of memory for your little friend. Make your pet a real living legend. He will definitely remember everything and tell you about his memories.
Users' new favorite pet
Play with the help of dialogues that your pet will offer you. He will try to make you feel sorry. You will have some fear of loss because his life is predetermined. His little life consists of 24 hours for which he wants to please you. Try to feed him using a special button for this.
You can offer him a few fruits to choose from and if he is hungry he will try one of them with great pleasure. This little ball loves cleanliness very much, so it is very important for him to make sure that his life is in perfect order. He will ask you to clean up, after which he will tell you about how important it was for him. Follow the course of his thoughts, this will help you move forward.
A few clumsy attempts to live this little life and you will find yourself in the same boat with your pet, where he will share with you his most intimate memories and desires. He will tell you about how close you have become to him.
Once you complete, His life will be considered over and He will perish. Under no circumstances should the process be interrupted. As soon as you want to stop your pet will no longer be. Instead, there will be a handful of bones that will remind you of a beloved friend. Don't abandon your Bitbuddy and you'll find out just how sincere and loyal pets can be. Even if this new pet is pixelated.