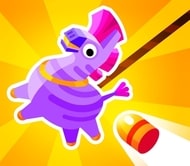 Have you ever seen a real piñata? Try to curb your emotions and choose the most suitable weapon in order to get all the coins and all the piñatas.
As soon as you enter into battle with one of them, you will be carried away by the process of passing the game. You will want to get everything that is in the filling of the piñata.
Bright and juicy graphics are combined with the maximum dynamic musical accompaniment. This makes the process of satisfying the piñata fight even more fun and interesting. You will receive bonuses in the form of coins for each completed level. Each new detail distinguishes the piñata from the previous one. The number of coins hidden in them is also different.
It is very important to hit the center as accurately and as quickly as possible. Thus, the damage inflicted to the piñata will be maximum. You will control the coolest character in headphones. It will help you focus. He is very persistent and very agile.
Step back from all the rules and rather click on your mouse to get the maximum amount of bonuses from passing the level. You will love to take out all your emotions on this piñata. You can also get bonuses for speed or for accurately hitting the target. Use them immediately to double the amount of coins.