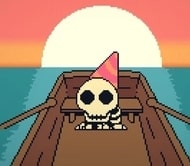 Phenomenal pixel simulator about the life of a little friend who will soon become your favorite pet. He really wants your attention and constantly requires you to be with him. He asks in no case not to complete the game, otherwise his life will be over.
He wants to be with you and will offer a variety of entertainment. He will offer you to catch one of 10 balls with the cursor or fight his opponents with a sword. You can improve your character or add health to it with just a few keys. He will have a lot of fun with you.
Help your pet understand what love and care is. He is tormented by doubtful thoughts about the frailty of life. It will share the name using dialogs. Take his words more than seriously. After all, his life is very fleeting. He will take only 24 hours of your life, and for him it will be a lifetime.
Become his parents, his friend, his faithful companion and brother. He will definitely appreciate your efforts. You can change his skin or even put a party hat on him to add another holiday memory to his piggy bank.
BitBuddy Unblocked is available to use on your screens. As soon as you open this app, your pet's life will begin. You can choose its color, its mood, its entertainment and more. Start your adventure right now, and your new friend will give you a lot of new emotions and sensations. Once you realize how much he is dear to you, your life will not be the same.
You will become a part of his life, and he will be eternally grateful to you for this. Several attempts to save him, before you realize that there is only one outcome – the death of your pet. How much patience do you have in order to make his little life radiant and joyful? Try it right now. Become a real hero for your pet.