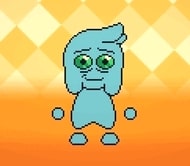 24 hours of simulation
The little green pet that will appear on your screen really wants to play. You will find yourself a prisoner in this small simulation, which pretty much puts pressure on you with its pixels. A lot of emotions that you will experience during the game – this is the main feature of this application.
Can you be responsible for the life of a little creature that penetrates very deeply into your consciousness with your words. BitBuddy appeals to the most secret emotions that lurk in the depths of the soul. Now you are responsible for the one you tamed. Just one day – and the little ball becomes your friend. You feel pity and regret. He realizes that his end is near and tries to persuade you to stay with him for a while.
Try all skins to make your time together less gloomy. The little ball will try to entertain you and involve you in the day spent with him. A few of his attempts at fun will seem dull and strange to you. But that's all it has to offer you. Try to catch ten balls, it will be a wonderful memory for this creature. Then it would occur to him to have fun in sword fights.
Strange bizarre creatures will come up against him, with whom he will fight. To what level of combat you can bring it – depends only on your desire. Watch out for the damage that his opponents will inflict on him. If you lose health, replenish it. The level to which you will get with him will be added to the treasury of his memories of the wonderful day that you dedicated to him.
What catches BitBuddy?
BitBuddy is not like other characters that we are already used to. He is a very vulnerable, deep and conscious lump that can play with your nervous system. You will not even have time to come to your senses, as you will begin to sympathize with his life tragedy. This little story tells about the value of life, how important it is to make time for your loved one and how valuable memories are.
Also suitable for people who, for the sake of fun, are ready to devote a piece of their time to a little quirky creature. Try all the buttons that appear on the screen to see what happens. Our little ball is used to cleanliness and order, so do not forget to clean up around him. He doesn't like balls and food lying around him.
Play with an open mind to understand the message of this development. How deeply you will be touched by the developer's intention – for this it is worth trying to press the Start button. Is it possible to touch a person through a screen and tie him to a chair for a couple of hours? Can you get inside the character's head to understand how important you are to him?