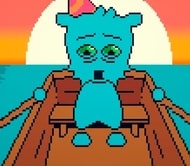 This is a new version of the challenge where you will take care of a cool humanoid. His appearance is unique and you will never see him again. Here, players will learn many stories from him that will cause sadness and pity.
So he wants to stay here as long as possible. As soon as you want to leave here, the hero will warn of imminent death. It's up to you to decide whether to prolong his life or kill him!
Make the decision that your heart tells you and then everything will be fine! Remember that only you can make a new comrade happy for the next period of time! Good luck!