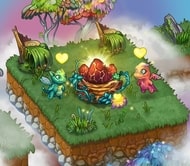 Something terrible has happened to this beautiful world: evil creatures have come and destroyed the beautiful flourishing home of dragons.
Now there is a void that is very difficult to fill with beauty and freedom for living. If you are confident enough and are able to make this world again wonderful and habitable for these magnificent creatures, then start this game soon and combine a variety of items.
You will be able to create something new by cooperating items on your screen. Combine the eggs so that you also have little helpers. These dragons are very hardworking and they will not leave you alone with these competitions.