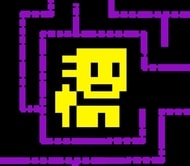 An arcade application that generates ever-growing mazes. You will receive random convolutions through which you will wander. As soon as you put on the mask, you will realize that you have superpowers. Now you can see through walls or climb walls.
Your character is very adventurous. That is why he is in the tomb. Tomb of the Mask is very similar to a walker in which you need to complete a variety of tasks. You will meet face to face with a variety of adventures, mysteries, secrets, tasks for which you will receive various bonuses.
You will find many traps and enemies. You will meet with them and you will have to engage in an equal fight. Choose the most convenient weapon in order to defeat your opponent. Simple graphics and mechanics made in the best style will help you with this. Use boost to get the best results. Endless motion is decorated in bright neon colors, which will help to include your imagination in the process.
Once you start, you will realize that it is no longer possible to stop. This adventure will drag you headlong into the abyss of a variety of emotions and sensations. How many roads will you have to tame before you succeed? What superpowers will the found mask give you and to whom does it still belong? Rather, begin your journey to find answers to all the sensitive questions.