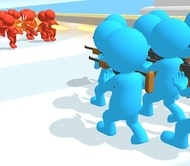 The most real mess of stickmen in this game. You will not have to attack, but very much the opposite. Gather your entire army with simple mathematical calculations. Do not lose the opportunity to pick up a more powerful gun that can destroy most of your enemies.
Just watch out for the sharp turns you will encounter. Don't lose your skills while trying to eliminate most of your enemies along the way. You will reach a point where you will have to defend yourself.
If your number is less than the army of your enemy, then you will lose. If you win, you will certainly go to the next level. A very simple and very entertaining carnage that will appeal to a picky user. Simple symbolic graphics will help you focus on the most important task.