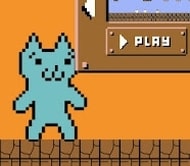 Having a best friend is amazing, especially if they are virtual. In this challenge, you have a chance to meet a cute hero not from our planet. He is sweet, but sad because of his difficult fate.
Only thanks to you will he be able to enjoy it, so don't leave here. If you do this, he will die and you will never meet him again! Catch the ball, fight with swords and much more!
In this version, fans have several additional options. For example, add hats, caps and other types of clothing to him! Here you will learn what real affection and compassion is! Listen to his stories!