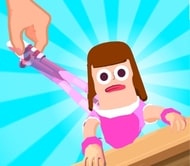 No matter how much you try to pull your character to the right location, he will cling to all the objects that will fall under his arm. You need to place your character in the right place.
To do this, use all the possible tricks that come to your mind. You will be responsible for ensuring that the character is at the right time in the right place. Grab Master is not just an application, it is also a cool puzzle that will make you think several times before completing one level.
Making several attempts, draw conclusions so as not to make mistakes in the next levels. Pull your character with all your might so as not to lose.