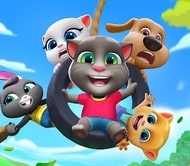 Just don't say you don't know who Furry Tom is. Today we will meet all his friends. You have a special wardrobe in front of you in order to expose each of the characters in this entertaining game.
Now you can have fun together. Entertainment will be further enhanced as the furry characters will be able to spend more time together. Now there are not only creative but also sports activities for our pets.
You will be able to collect stickers and coins to get extra bonuses. If you are tired of relaxing together, you can go on a real trip out of town. Find out what awaits you there. Remember that we are responsible for those we tame.