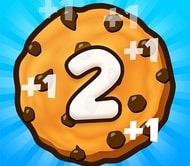 How fast are you willing to click the mouse in order to bake the biggest number serving of sweet baked cookies? How many items can you bake in the allotted time? Once you've managed to max out at cookie baking, you can go to the store and trade in your production for extras.
Here you could also find a rain of golden cookies and milky waves. They'll help you make your production even cooler and even tastier. You can try an additional time machine feature that will help you visit the future and bake more pastries.
Cookie Clicker 2 also has a map to track everything and everyone. You can follow not only your own progress, but also the progress of your friends. If you consider yourself a fan of the culinary arts and are ready to bake cookies an infinite number of times, then this application will definitely surprise you.
Do you know how many cookies you can bake? Cookies are counted automatically. You can see your progress at the top of the screen. You can also offer to play with your friends with whom the cookie test races will become even cooler and more fun.
If you are a gambler and a challenge for you. This is something unusual, then the test of biscuits making is just for you. A culinary guru is a calling, and you can understand this as soon as the oven turns on to make these little culinary masterpieces.