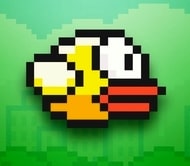 Visually simple and intuitive race to keep the bird on the same level. If you want to score maximum points, you need to keep a close eye on the movements of the bird. Tap the screen to control the flight height and landing height of the main character.
The graphics are as simple as possible so that users do not distract from the process of passing. You can control how high the bird can rise to overcome all the obstacles that appear in its path. In addition, you will see several clouds that will harmoniously complement the visual image of the screen.
You will score points for passing each obstacle. Obstacles are fixed or movable columns. The bird needs to fly between two columns so as not to hook on either of them. The first minutes will be as simple as possible to pass. You can practice before you start a real battle. After that, you will have to watch closely and tap on the screen in time so that the bird does not crash into obstacles.
Flappy Bird won over its users with the most simple controls and simplified graphics, which allows you to focus on the process of passing. The process consists of one level. As soon as you crash into the support, the race will be over.