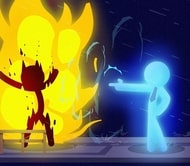 If you want to participate in a real battle for a place in the sun – then welcome to the game. You will have to fight with a lot of dudes who strive to stop you in any way. Fight for life and victory.
Try to succeed with assertiveness and dodge the attacks of the stickmen attacking you. Climb up, overcoming floor by floor. Most likely, you will need endurance and a desire to get as high as possible.
Dodge if necessary. Defend and fight back if possible. Do not try to cooperate – everyone here wants to throw you down at the speed of light. Use your basic karate skills, and if you can't shrug it off, take out your knife and defend yourself.