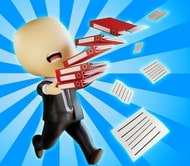 Each of us dreamed of becoming a profitable tycoon who would have enough money for a comfortable life. But for this you need to make every effort to develop your business. This game is a real attempt to create your brainchild from scratch.
An office shark simulator that will cling to any development opportunity already on your screen. In addition, you will be responsible for the hired people and securities. You need to keep track of literally every leaflet, every stage of production, so as not to lose money and turn efforts into profit.
Modernization of production is a necessary element for increasing profits. The flow of good news will make you a real business guru.