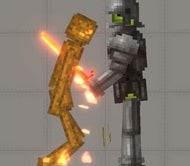 Choose your own stickman and dress him up for a real duel. Here you are waiting for a real battle with a choice of weapons. You will be able to track what can actually happen to the characters if they use a variety of torture.
Melon Playground is not just an application, but a real test for nerves. Users will do their best to destroy their character. What will come of this? You have an unlimited amount of cannon fodder and dozens of attempts to destroy them in various ways.
What actually invented stories will appeal to you? This is a real relaxation for the brain and exercise for the imagination. Come up with a situation, immerse yourself in it and immerse your character in it. You will be solely responsible for the course of events.