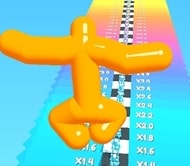 A run where your only asset is your size. Tall Man Run presents its users with a race in which you need to follow the track, destroying bots with the help of your advantage – the width and height of your character. Collect cool buns along the way to gain weight and accelerate as quickly as possible.
Don't run into cons. Find a logical solution to the problem that will allow you to increase your runner. I do not advise you to gain height, otherwise you will crash into an obstacle and the level will start from the beginning.
Be as vigilant as possible. Knowledge in mathematics will also be useful in this sports competition.